I'm now back in Kabul and haven't slept since Wednesday night, so if I miss the Seagulls Player coverage of our league game tonight against Millwall then don't be too surprised – I'm hanging out my arse with jet lag here.
Big game tonight – we have a decent record at the New Den, and Millwall have probably only just recovered after the events of Tuesday the 25th August. "Interesting" isn't close to describing this one – "must see" is more like it, or if you're away like me "must listen". The instant coffee will be getting tanked tonight for sure.
The game is ten minutes old and Player has not even looked like working, piece of shit, I might have to sack this. I'm watching the Millwall v Albion thread on NSC, can't get fook all on my laptop. Guess who's getting a bastard email tomorrow? Wha-hey!!! we're on and we're down 1-0, and Whing has just been booked. Marvellous. Whing is on thin ice, one more bad tackle and he's off, can we play a game with 11 players this season? Michel Kuipers has made two great saves to keep us in it.  It's pissing it down at the Den, miserable, wet, fitting. Forster misses a great chance, made by Cox. Half-time, not good but we're still in it. Gary Dicker on for the second half? Please? Mister Slade?
And Dicker starts the second half. Seagulls Player commentators reckon it's because Alan Navarro took a knock first half, who cares, he's on at last. Adam Virgo is playing a lot better than last game, not missing Elphick then? Tunnicliffe is not as assured as he looked Saturday, he could be missing Elphick. Dicker sounds lively, and our midfield is actually going forward this half. Dickinson skins his marker, lays it off to Bennett and the new kid misses a sitter. Our fans have found their voices after that one, let's have another. Cox chips the keeper, hits the crossbar!! Forster heads and it's cleared over! Jesus, is it going to be one of those nights?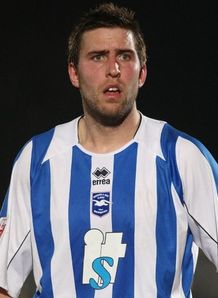 NO IT FOOOOOKING ISN'T!!! Virgo crosses and Nicky Forster SCORES!!!!! 1 – 1. Get it right up you Millwall!!!!! Straightaway AGAIN Albion are in shit state at the back, Millwall are kept out once more by our big Dutch Keeper. I'm wide awake now. We're good for this draw, 15 minutes left, this is a good performance in the second half. Gary Hart comes on for Fozzy on 76mins, hmmmm, is Forster injured? Good to see Hart back in the team anyway. We're creaming Millwall now, another corner. Mark Wright on for Cox on 85mins.
This has been a good battling performance against a strong team, epitomised by the skipper Virgo. Five minutes of injury time, eh? From where? Tunnicliffe clears off the line!!!! Shit! Corner for Albion with a minute left, wasted. COME…ON….ALBION.
That's it, good result, we're back playing football again. Note to Russell Slade, START PLAYING GARY DICKER FROM THE START BALDY!
The Hovian's Albion Team Performance : 7 out of 10
The Hovian's Albion Man of the Match : Adam Virgo
Albion Team (goalscorers in bold):
(4-4-2) Kuipers; El-Abd, Virgo, Tunnicliffe, Whing; Bennett, Navarro (Dicker 45), Crofts, Cox (M Wright 85); Dickinson, Forster (Hart 76)
Subs: M Wright, Livermore, Dicker, J Smith, Hart, Thornhill, Cook, Davies
League One Table
28 Aug 2009 21:49 UK